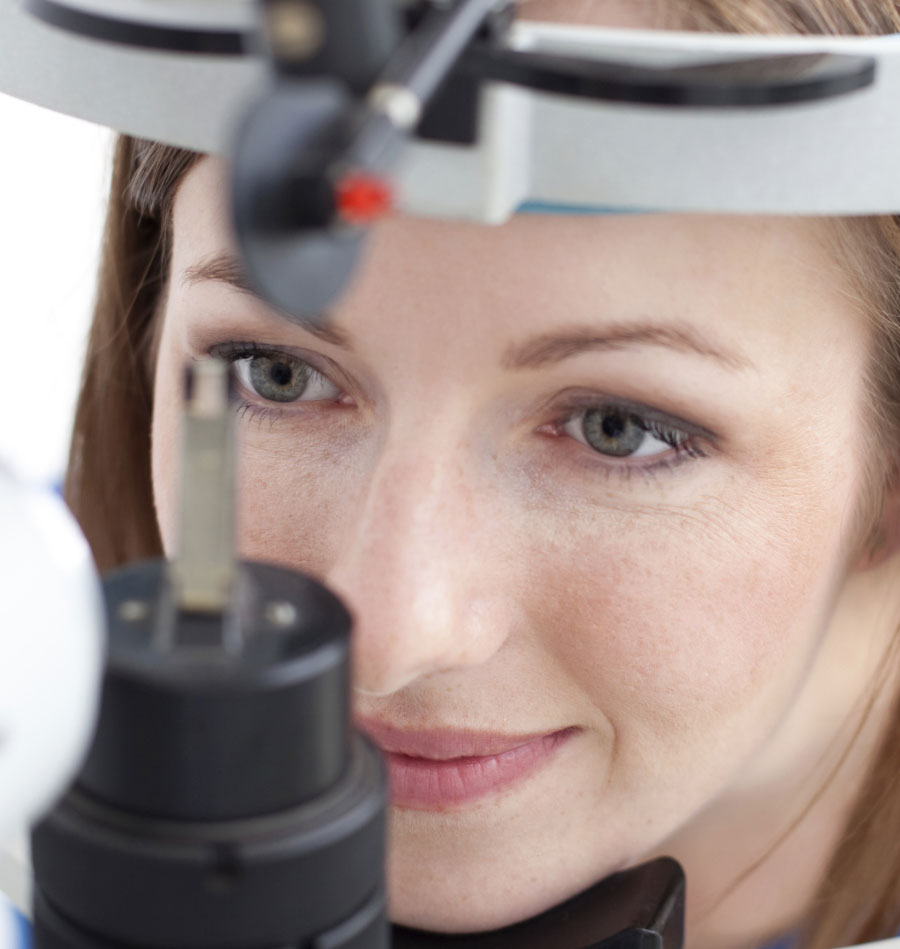 Eye Exams – Scanning Laser Ophthalmoscopy
Professional Eye Care Center provides pediatric eye exams beginning as early as six months. Your child's appointment will consist of testing visual acuity, color vision and depth perception. To help little ones stay occupied and calm we have a children's playroom with toys, books and videos. Our doctors have incredible patience and an amazing rapport with their younger patients. Call today to schedule your child's eye exam.
(Scroll down for additional services)
Optomap Retinal Eye Exam
A comprehensive retinal examination can detect eye disease like Age Related Macular Degeneration, Diabetic Retinopathy and Retinal Detachments and diseases like Hypertension, which can also effect your overall health. We are committed to providing you with the highest standards in eye care, which is why we strongly recommend that you have an Optomap Retinal Eye Exam as part of your examination. The Optomap provides important information about your health without the need for uncomfortable pupil dilation.
The Optomap Exam is quick, comfortable and simple. Your retinal images will be displayed for review and will be stored electronically. This will give us a permanent record of the condition of your retina. This is very important in detecting and measuring changes to your retina. Be sure to make the Optomap exam part of your regular eye care!
Dry Eye Treatment
Over 25 million people suffer from dry eyes.  "Dry Eye" is part of what is more known as Ocular Surface Disease (OSD). OSD can come in many varieties – dehydration, evaporation, autoimmune, and/or allergy. Professional Eye Care Center offers LipiFlow® and TearCare®, advanced treatments for those suffering from dry eye syndrome and meibomian gland disease.
Myopia Management
Myopia Management: Our practice is proud to offer myopia management services; by incorporating the latest evidence-based knowledge, our doctors use individualized assessment and treatment plans for our affected or at-risk patients. To keep myopia from progressing and reduce the lifelong risk of potentially blinding eye diseases our office uses specialty contact lens designs and/or eye drops to slow the progression of this condition.
Laser Vision Correction
Laser Vision Correction is offered to relieve the dependency on glasses and contact lenses for those wishing a freer lifestyle. Laser Vision Correction is currently one of the most common outpatient procedures in the United States. The doctors at Professional Eye Care Center co-manage laser vision correction and have successfully treated many satisfied patients.
Lasik is currently the most common type of laser vision correction and can be used to correct various types of prescription problems including astigmatism.
Dark Adaptation Testing
Our practice was the first in the area to utilize new technologies that detect AMD up to 3 years earlier than prior methods. Our practices is a certified  Macular Degeneration Association AMD Center of Excellence.  This award is presented to only those applicants that have met all credentialing criteria.
Visible Genomics AMD Risk Assessment Testing
Professional Eye Care Center Eye Care offers genetic risk assessment testing for Age Related Macular Degeneration (AMD). Because there is no cure for AMD, identifying high risk individuals leads to earlier intervention. Early intervention allows patients the time to modify behaviors earlier in life, possibly preventing the onset of the disease.
The Visible Genomics test combines a patient's genetic status, ocular findings, demographic and behavior characteristics to deliver an accurate, reliable and clinically actionable AMD risk assessment.
Pediatric Exams
Professional Eye Care Center Eye Care provides pediatric eye exams beginning as early as six months. Your child's appointment will consist of testing visual acuity, color vision and depth perception. Our doctors put a special emphasis on finding children at risk for myopia to properly manage the progression of this disease.  We are an InfantSEE® program provider. InfantSEE® is a public health program, managed by Optometry Cares® -The AOA Foundation. Under this program, we provide a comprehensive infant eye assessment between 6 and 12 months of age free of charge regardless of family income or access to insurance coverage.
24 Hour Urgent Care
Avoid the emergency room, our office is open for urgent eye care needs.  After hours, contact us if you have an eye injury or infection at 847-600-4320.
Nutrition Support for Visual Health
Leading a healthy lifestyle of proper nutrition and exercise can help keep your eyes functioning properly well into your later years. Professional Eye Care Center offers EyePromise, one of the leading eye health supplements.
Our Services
Comprehensive eye health examinations
Treatment of eye injuries and eye trauma
Treatment of eye infections, red eyes, and ocular allergies
Treatment of dry eye syndrome
Treatment of computer vision syndrome
Detection and management of strabismus (lazy eye)
Detection and management of glaucoma and cataracts
Detection and management of diabetic eye disease and macular degeneration
Detection and treatment of keratoconus
Laser vision correction consultation and co-management
UPNEEQ
Our practice offers our patients UPNEEQ, the first and only FDA approved eye drop for droopy eyelids (acquired blepharoptosis).
It's the drop that lifts – a unique daily medication designed to lift droopy eyelids
It can improve field of vision – which may help you see better
It can lift your eyelid(s) quickly
Use UPNEEQ once a day, everyday to improve field of vision and elevate your eyelids
Ask our doctors for important safety information.
Eyelash Enhancement
Professional Eye Care Center offers Zoria Boost, a lash intensifying serum that creates dramatically longer, fuller and darker looking eyelashes. This clinically proven, drug-free formula is non-irritating and delivers noticeable results without the potential side effects associated with other lash-enhancement products.
Opticwash
Our practice is the first in the Chicagoland area to offer our patients the services of opticwash – an automated kiosk that cleans and sanitizes eyewear, jewelry, and water-resistant smartphones.
kills 99% of all bacteria
uses only 2 lbs. of water pressure
guaranteed not to harm your items

uses no chemicals or heat