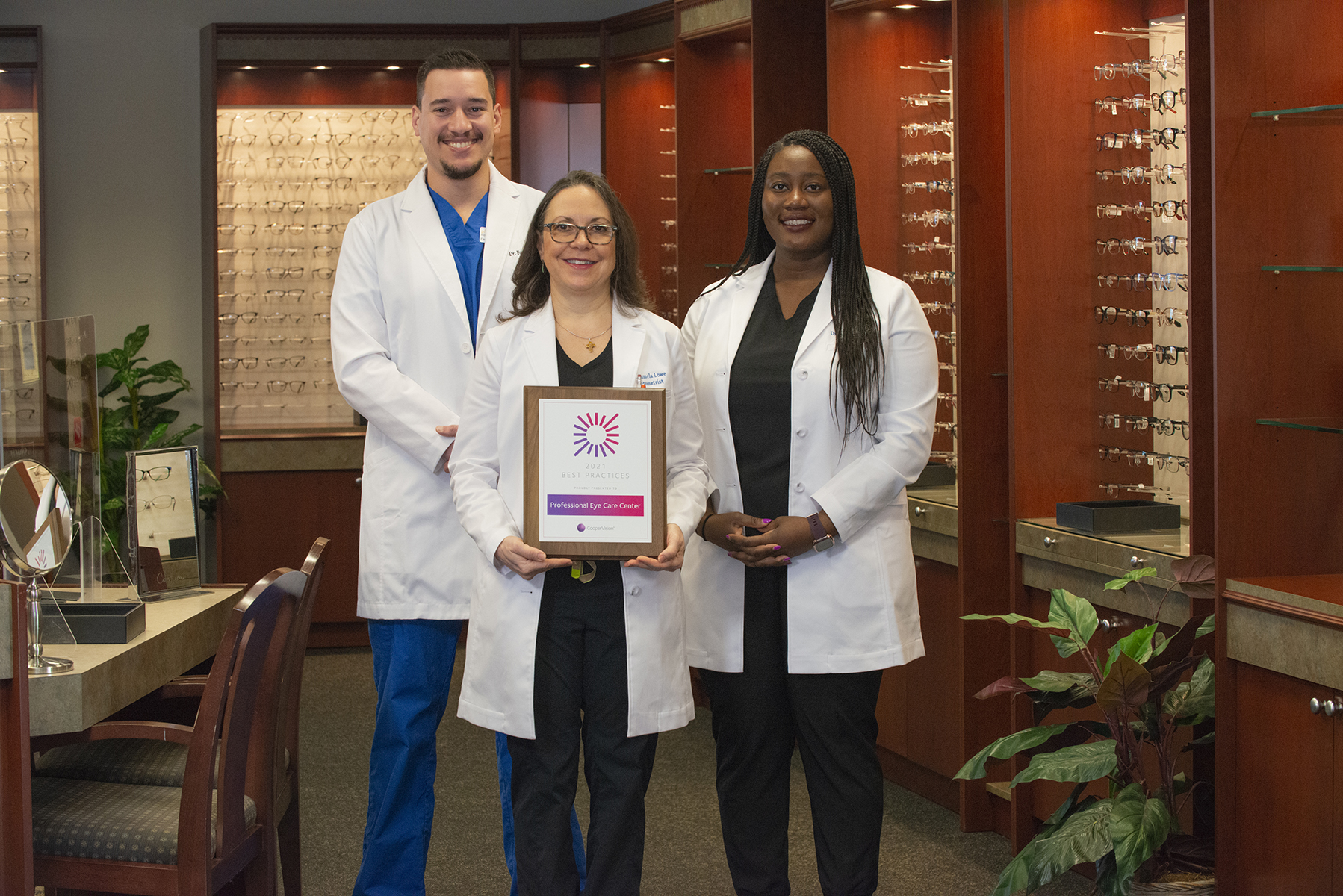 Professional Eye Care Center Named One of the Nation's Best Practices by CooperVision
NILES, Ill., May 3, 2021 — For its leadership in optometry and delivery of exceptional care to its patients, Professional Eye Care Center has been named a 2021 Best Practices honoree by CooperVision—one of the world's leading manufacturers of soft contact lenses. Now in its sixth year, the Best Practices initiative seeks to discover and recognize U.S. eye care practices that have found unique ways to drive growth in their businesses—particularly during a year of unprecedented challenges brought on by the COVID-19 pandemic—and celebrate the visionary and innovative things they do every day for their patients and communities.
Professional Eye Care Center is included among the 10 honorees chosen as this year's class of Best Practices after a nationwide search that began in Fall 2020. Honorees were first announced in March and are profiled on the program's web site at coopervision.com/practitioner/best-practices.
Professional Eye Care Center sees every patient encounter as an opportunity to change a life. The doctors and staff strive to provide a patient-centric experience wherein each patient not only feels valued, but leaves their exam knowing more about their eyes and ocular health than they did prior to their arrival at the practice.
"We end each patient visit asking if there's anything we didn't discuss during the exam that the patient wants to know more about," said Dr. Pamela Lowe, owner of Professional Eye Care Center. "By asking this simple, open-ended question, we're able to go the extra mile to exceed our patients' expectations."
Dr. Lowe and her team at Professional Eye Care Center are passionate about raising awareness of the myopia epidemic and educating parents and patients about healthy eye care habits. Dr. Lowe has been actively involved for years in the American Optometric Association and the Illinois Optometric Association (IOA), having previously served as IOA President.
All U.S. optometry practices currently fitting contact lenses were eligible for consideration. Candidates were evaluated and honorees were selected by a panel of judges made up of past Best Practices honorees, optometry industry experts, and CooperVision leaders. Evaluation was based on insights and experiences shared about the practices' innovation, patient experience, and business culture.
"Like so many businesses, eye care practices have faced unforeseen challenges brought on by the COVID-19 pandemic," said Michele Andrews, OD, Vice President, Professional & Government Affairs, Americas, CooperVision. "Creative, innovative practitioners and their staffs—like those at Professional Eye Care Center—have overcome these obstacles to continue delivering the best possible eye care to their patients. We look forward to partnering with Professional Eye Care Center and our other Best Practices to share their stories across the industry to help educate others who strive to do the same."
In the months to come, the 2021 Best Practices will be broadly recognized and presented with opportunities to help educate and elevate the profession through the telling of their stories across the United States. In addition, honorees have been invited to participate in a specially designed educational meeting to be hosted by CooperVision, where the honorees will have the opportunity to collaborate with each other, as well as the 2020 honorees.
CooperVision will open 2022 Best Practices submissions later this year. For more information on the honorees or the program, visit coopervision.com/practitioner/best-practices and follow CooperVision on Facebook and on Twitter.
# # #
About CooperVision
CooperVision, a division of CooperCompanies (NYSE:COO), is one of the world's leading manufacturers of contact lenses. The company produces a full array of daily disposable, two-week and monthly soft contact lenses that feature advanced materials and optics, and premium rigid gas permeable lenses for orthokeratology and scleral designs. CooperVision has a strong heritage of addressing the toughest vision challenges such as astigmatism, presbyopia, childhood myopia, and highly irregular corneas; and offers the most complete portfolio of spherical, toric and multifocal products available. Through a combination of innovative products and focused practitioner support, the company brings a refreshing perspective to the marketplace, creating real advantages for customers and wearers. For more information, visit www.coopervision.com.
About CooperCompanies
CooperCompanies ("Cooper") is a global medical device company publicly traded on the NYSE (NYSE:COO). Cooper operates through two business units, CooperVision and CooperSurgical. CooperVision brings a refreshing perspective on vision care with a commitment to developing a wide range of high-quality products for contact lens wearers and providing focused practitioner support. CooperSurgical is committed to advancing the health of women, babies and families with its diversified portfolio of products and services focusing on medical devices and fertility & genomics. Headquartered in San Ramon, Calif., Cooper has a workforce of more than 12,000 with products sold in over 100 countries. For more information, please visit www.coopercos.com.
Media Contact
Maggie Munley, Associate Counselor
McDougall Communications for CooperVision [email protected] or (585) 434-2149